High-end display technologies
Today we would like to introduce you to some of our high end display technologies - IPS, high brightness, optical bonding and industrial capacitive screens. Here is some useful information about the high-end technologies that we use in many of our LCD modules.
Why choose IPS?
Unlike the TN technology used in traditional panels, TN panels can experience grey scale flip at certain angles, causing colour changes and not allowing you to see exactly what is on the display. But IPS panels ensure that the content on the display can be seen perfectly at all angles. This kind of full viewing panel has been used quite widely, and most of the mobile phones and TVs nowadays are these panels.
Why choose high brightness?
We live in a bright, colourful modern world. How content is presented on the display is really important. No one wants to look at a dull, grey image. That's why our high-brightness displays have 1000 cd/m2 and provide a clear image even outdoors. High brightness is the key to being readable outdoors, and with Disea technologies, you have high brightness as standard!
Optical bonding?
optical bonding is the process of attaching the touch panel (or just the protective glass) to the display using a liquid adhesive, gel. In general, this process improves the optical performance of the module, as well as its durability, and reliability.
If you want to ensure that your display has enhanced optical performance and excellent durability, you should choose our high brightness IPS displays with optical bonding, the combination of these technologies results in a very competitive product and product performance.
*You may not understand why optical bonding improves optical performance: the optical bonding process uses an optical grade adhesive to adhere the glass to the top surface of the display. It eliminates the usual air gap between the touch panel and the display. When the air gap is eliminated, we reduce the number of internal reflective surfaces, which increases optical performance. This phenomenon improves readability, by reducing reflections and correcting contrast.

Why use an industrial capacitive screen controller?
We have access to industrial capacitive screen controllers and experienced engineers to debug the effects of touch. Touch displays can work with water or with the use of gloves. We can easily adapt the touch function to each device. Thanks to the high-grade capacitive screen controller, our touch displays can pass most industrial and medical requirements.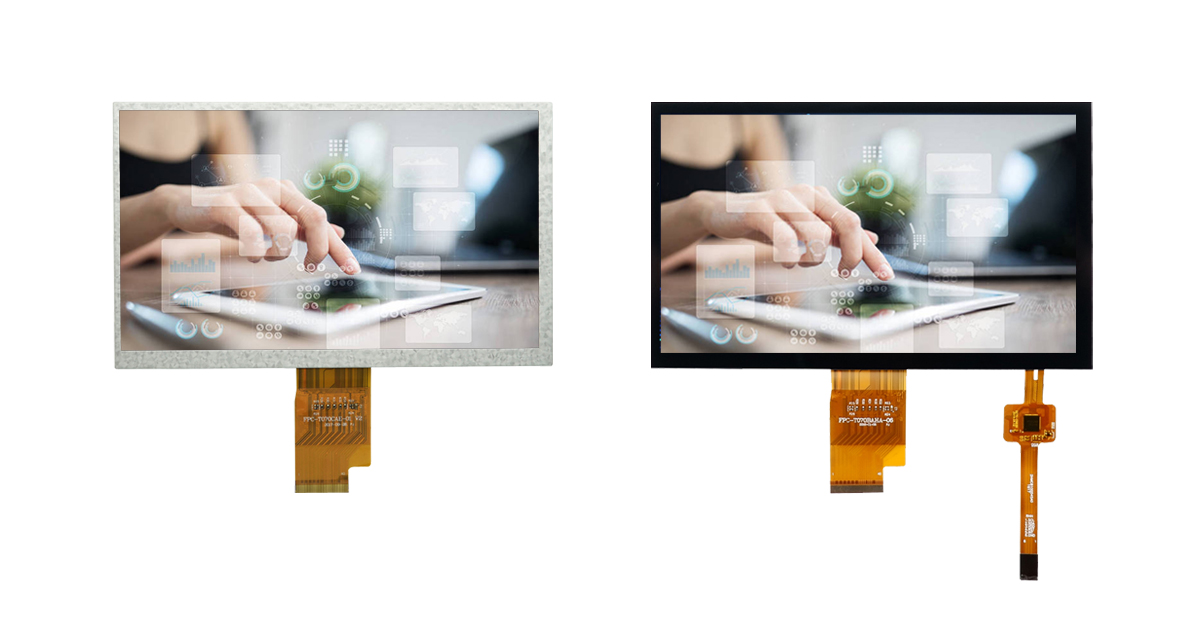 Why use a projected capacitive touch screen?
PCAP is the most innovative and popular touchscreen technology. It provides an intuitive way for users to interact with the display. This type of touchscreen is the most common type used in mobile phones, tablets and other handheld devices. The technology allows you to tap, scroll, zoom, pinch and flick without even thinking about it. If you are building an application that requires seamless interaction with your device and an intuitive user interface design, then look no further than these new displays.
You can see the key features of these touch screens below:
1. The cover glass is available in a variety of thicknesses, 0.55, 0.7, 1.1, 1.8, 2.0, 3.0, 4.0 (mm)etc.
2. The cover glass can support IK07-IK09 impact standard (Of course, it is also related to the size of the cover glass, please consult our engineers for details).
3. Supports a wide range of gloves for operation - not only rubber gloves - but even cotton gloves.
4. Operation with water, even salt water is possible, for marine applications.
5. Multi-touch, up to 10 fingers.
6. Excellent EMC, EMC, ESD, RS, CS performance.
Now you can easily select the right display for your application and if you have questions or queries, our experienced team is on hand to assist you.